SEO Content Social Sharing on the Internet's Most Popular Search Engine
Any business with a website should already understand the importance of visibility on search engines like Google. Furthermore, as a business owner with some understanding of SEO, you know that having a Google Business Profile is critical to reaching and engaging potential customers. After all, who doesn't have a "near me" search in their most recent Google searches (i.e. "gas station near me", "Starbucks near me").
Google is the world's most popular search engine for a reason. And as a business trying to make it in today's ever-increasingly internet-centric society, you should be utilizing as many of Google's products to maximize your search visibility. And yet, many overlook one surprisingly easy and free means to generate new leads: Google Business Profile posts. GBP posts combine content sharing with GBP interactions. This can lead to greater website traffic from your GBP listing and overall organic search traffic.
So let's go ahead and explore Google Business Profile posts, what they are, what they can be, and why you should start including them in your SEO/SMO game plan.
What is Google Business Profile?
"Turn people who find you on Google Search and Maps into new customers with a free Business Profile for your storefront or service area. Personalize your profile with photos, offers, posts, and more." –Google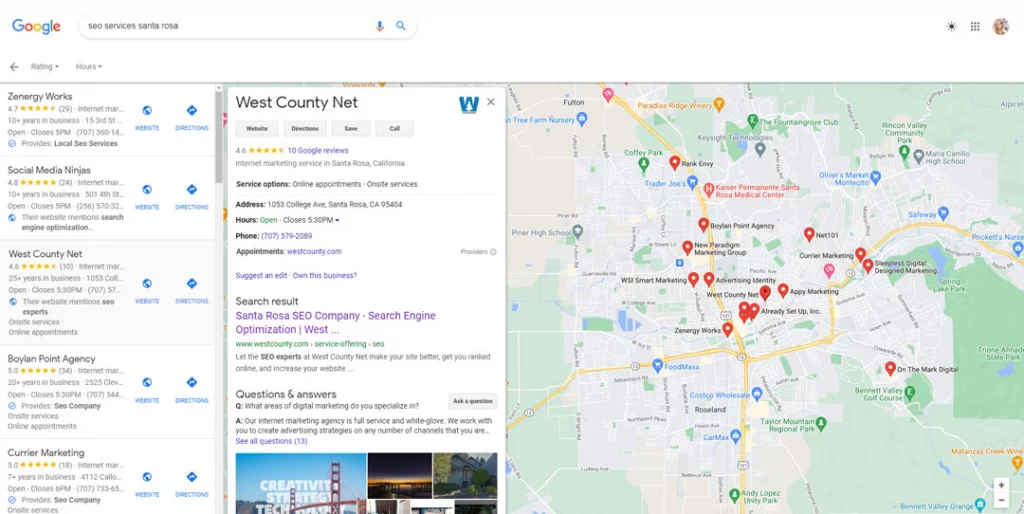 Google Business Profile, formerly known as Google My Business, is a free platform offered by Google. Businesses can create profiles similar to social media profiles like Facebook Business page and Yelp. These business profiles appear in related searches on Google Search and Maps. 
Building out your GBP is an incredibly easy and smart tactic to include in your overall SEO strategy. Your business profile on Google can include general information including your business name, address, and phone number (NAP) and business hours. You can also include more specific information such as accommodations like wheelchair accessibility, restrooms, and health and safety guidelines.
Most important however, is that your Google Business Profile is great for content publishing. You can also include services and products offered, share images from the business and customers, and include a keyword-rich business description. And lastly, of course, you can share articles, tips, images, and videos via Google posts. These aspects are all great low-hanging fruit opportunities for search engine optimization that many small businesses overlook, but Google posts are particularly underutilized and underestimated.
What are GBP Posts?
So what exactly are Google Business Profile posts? Again, referencing Facebook Business, Google posts are very similar to Facebook posts. GBP posts are a form of content sharing where you can post photos, news, special offers, and connect with existing and potential customers. However, unlike other social media platforms, GBP posts have built in CTAs such as "Call Now", "Learn More", "Visit Website", and "Book Appointment". Therefore, there's no need to embed ugly URLs in the body of the post. And furthermore, Google allows viewers to share Google posts to other platforms like Facebook, Twitter, and email.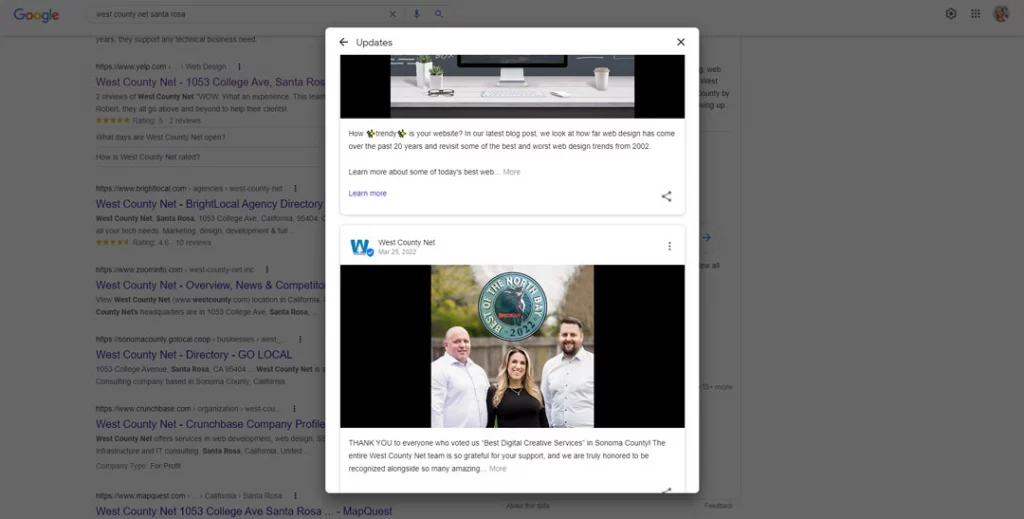 What can I post to my Google Business Profile?
When it comes to what you can post, the sky's the limit. Anything you can post to other social media platforms, you can also post to Google (within posting guidelines). This includes images, text, videos, gifs, and reviews. For instance, you could post product information like descriptions, pricing, availability, and special offers. You can also share images of your business's interior and exterior to give potential customers an idea of what your business looks like. You could also post customer submitted videos reviewing your products or services. At West County, we like to post snippets from our clients' most recent blog posts, discounts, and new product photos.
How often should I post to my Google Business Profile?
So now that we know what Google Business Profile posts are and what they can be, let's discuss "when" you should post to GBP. Unfortunately, like any other social media platform, a universally accepted posting "golden hour" does not exist. Your business's optimal posting time depends entirely on your audience. Thankfully, GBP has a dashboard where you can analyze viewer impressions and interactions down to the day and hour much like Facebook and Instagram. So be sure to check in frequently with your dashboard to keep an up-to-date understanding of your audience.
Whenever you post to your other social media accounts, you should also post to your Google Business Profile. At West County, we consider Google Business Profile an extension of our Social Media Optimization services. So anytime we share content to our clients' Facebook, Twitter, or Instagram accounts, we also share to their GBP. After all, Google is one of (if not) the largest search engines on the internet. Sharing your content to Google ensures that it is immediately visible and discoverable across the world wide web.
Optimize Your Google Business Profile with Google Posts and West County
Your Google Business Profile should already be a core factor of your overall SEO strategy. Now, you should consider sharing content to GBP posts as an added step to your social media optimization strategy. GBP posts are a free and easy means to publish your content for immediate consumption to the world's most popular search engine. They're also an excellent way to build up your SEO with concentrated keyword-rich copy and images that directly link to your website.
Not sure where or how to get started on your own business's Google Business Profile? Contact the SEO and SMO specialists at West County. We handle all of our SEO/SMO client's GBP to ensure information accuracy, relevancy, and frequency. Let us discuss how a holistic approach to SEO and SMO including SEO-driven content creation, link building/social sharing, NAP optimization, and post scheduling can improve your business's search visibility.
Contact Us
Contact us by filling out the form below.
"*" indicates required fields