Social media as a business marketing avenue is not a new or even revolutionary concept. However, moving into 2022, it's time we consider social media as a necessary extension, and not as an optional one. According to the Pew Research Center, seven-in-ten Americans use some form of social media which translates to roughly 230 million users. And Forbes tells us that of that user base, anywhere from 23-77% of users (depending on age) shop on social media platforms! So if you're still on the fence about using social media for business purposes, this is your wakeup call.
Of course, let's start this conversation by agreeing that there is a huge difference between your personal social media account where you can freely post pics of your breakfast to a few close friends, and a business account for thousands of potential customers to see. Your business's social media account has a distinct purpose and role in your business plan, specifically in regards to growing your business.
Why is Social Media Marketing Important?
At this point you may be wondering whether social media even fits with your industry, and the answer is always YES. No matter whether you have a product oriented or service oriented business, you can make social media work for you. For instance, the White House has a Twitter account and has posted to it consistently since 2015. Check out Facebook and you're sure to find accounts for your local firehouse, police department, and library. How many nail salons in your area have an Instagram account they post to regularly?
Social media is not just limited to the big-box store companies or national brands; anyone can use it if you know how. Social media can help solidify and disseminate your brand identity. It can cultivate and nurture customer loyalty and community building. It can also announce new services or product launches or share exciting business news.
Businesses that rely on word-of-mouth for customer outreach can certainly profit from posting to their local Facebook community using location-tagging and community sharing initiatives. Ones that depend on customer reviews for building and maintaining their reputation could tweet testimonials from new and loyal customers to highlight their product quality or customer service. Businesses that offer rotating or seasonal products could Instagram new product images to announce launches or sales and discounts.
The important thing to keep in mind, is that you approach utilizing social media with set goals and strategy in mind. A great social media optimization strategy will be tailor fit to your business model, objectives, and audience.
What is Social Media Optimization?
So now that we know any industry can use social media to further their business goals, it's imperative that we distinguish when a business should invest in social media optimization. Goal setting, analytics, and strategy are where social media optimization enters the picture.
Social media optimization is the strategic use of social media platforms to manage and grow a business or brand's message and online presence. At West County Net, we like to extend this definition to include "to help reach specific goals". The best way to maintain social media optimization is with a dedicated social media manager.
A social media manager works with your business to get the most out of your social media visibility, and, more importantly, help you turn that visibility into realized business. A social media manager does this by analyzing and auditing your existing social media presence using real time data—known as analytics.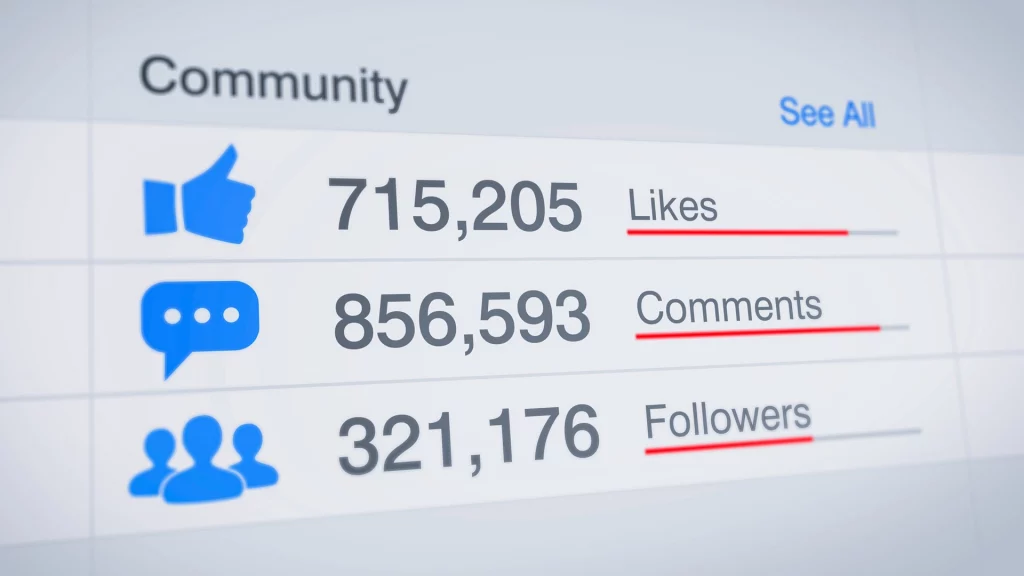 Social Media Analytics
Following: Refers to the number of accounts that actively follow your social media account. (Has liked your FB Business Page, Subscribed to your YouTube channel, or followed on IG, Pinterest, Twitter, TikTok, etc.)
Reach: Refers to the number of unique accounts that saw the post.
Impressions: Refers to the total number of times a post was seen.
Engagement: Likes, Comments, Shares, Link Clinks (Engagement is calculated by dividing Likes & Comments by account followers, then multiplied by 100 to turn it into a percentage)
From this initial snapshot, they can work to identify key aspects necessary to your business's social media success.
The Benefits of Social Media Optimization
So what does social media optimization do specifically for your business? In general terms, social media optimization helps set goals, create a strategy to achieve those goals, and identify key metrics to measure your success or failure towards those goals. Such goals might include raising brand awareness, generating leads, nurturing customer loyalty, etc.
Raising Brand Awareness
If getting your name out to the masses is your marketing objective, then you're likely looking to raise brand awareness. We refer to this subset of marketing as prospecting, because customers are not familiar with your business. When your focus is brand awareness, your key performance indicators will be reach, impressions, and follower growth. Many social media platforms with business accounts including Facebook and Instagram collect and display data on individual post's performance including these two metrics.
Generating Leads
If your goal is to collect viable customers who are highly likely to convert, then you're more likely looking to generate leads. Lead generation is typically closer to the bottom of the consumer funnel, meaning that customers are probably already familiar with your brand. Reach and impressions are important when you use social media to generate more leads and boost sales, because without these strong metrics, even the coolest product can go unnoticed. This is where engagement comes in.
Creating content that your audience wants to encourage with – like, comment, share, link clicks, etc. – puts your brand in front of even more people. On platforms like Facebook, everytime anyone likes, comments, shares, or otherwise engages with your content, their friends see it. High engagement not only illustrates that people enjoy your brand, service, or product, but it also allows you to reach an audience beyond those already following on social media – new leads!
Nurturing Customer Loyalty
Lastly, of the examples we've covered, if you want to improve your reputation and increase the lifetime value of existing clients, you're likely looking to nurture customer loyalty. One of the best parts of social media is it allows you to connect with your followers, establish trust with them, and ultimately build lasting relationships with your customers. Reputation management is an excellent opportunity to engage with your audience: answer questions, respond to feedback, gather user-generated content, and testimonials. A 2017 study by TurnTo revealed that 90% of consumers said user-generated content specifically impacted their purchasing decisions and increased their trust in brands.
Cultivating a community through social media is a bit of an art, and unless you are comfortable monitoring social media 24/7, we highly suggest investing in a dedicated social media manager. Not only will a social media manager help you identify the best methods to draw out that loyalty through user-generated content, reviews, testimonials, etc, but they will stay on top of communication between your business and the community. An expert social media manager will know to keep watch for comments, whether good or bad, what content is being shared, and stay on top of customer service outreach. It is vitally important that you stay on top of business related questions or direct messages; nothing spells poor customer service like being left on read on Instagram.
Social Media Optimization with West County Net
Of course, there are infinite, various marketing goals you can achieve with social media optimization, and these are just a few. It's important that your social media optimization strategy is adjusted for your unique business, industry, audience, and goals. At West County Net, we highly suggest approaching any strategy with real time data. First, you get to start with the most complete picture of your situation. Second, you can set realistic goals and a timeline to meet that goal. Third, by knowing where you are currently, you can create actionable steps to move from your starting point to your end goal.
You've worked hard to build your business to the powerhouse it is today using the tools at your disposal. If you still haven't committed to social media as one of these tools, you may very well be stunting your own growth. In this digital age where people are becoming more and more reliant on the internet for information whether local, national, or global, social media is becoming increasingly more integral to modern marketing. Without social media, your business may not be suffering per say, but it certainly isn't flourishing the way it could be.
In this article, we've not only outlined the benefits you can gain from social media visibility, but also that any business can benefit from social media optimization. It's time to take that Facebook seriously. If you're still green to social media in general, or want a professional on your side, reach out to us at West County Net today.