When does Windows 10 come out?
Windows 10 launches on July 29th, 2015 and will remain a free upgrade until July 29th, 2016.
If you're already running Windows 7 or Windows 8.1, you may have noticed the notifications prompting you to reserve your copy of Windows 10. Once you reserve, Microsoft will download the necessary files in the background to be ready for installation on July 29th.
Reservation isn't necessary at any time and your reservation will not disappear if you either ignore it or decline it. This is just Microsoft's way of distributing Windows 10 files to those who want them without overloading their servers on launch day. As long as you have an installed Windows 7 or 8.1 during that year period, you'll be good to go.
---
How much does it cost?
Perhaps the best part about Windows 10 is that it will be free for everyone who owns a genuine copy of Windows 7 or Windows 8 (excluding Enterprise editions).
If you aren't able to upgrade for free or you miss the upgrade window (one full year), it will cost you $110 USD for Windows 10 Home and $199 for Windows 10 Pro.
If you have a free upgrade to Windows 10 Home and would like to upgrade to Windows 10 Pro, that will cost you $99 USD.
---
Who is eligible to upgrade?
As long as you own and have installed the Starter, Home, Professional, or Ultimate version of Windows 7 or 8, Microsoft allows you to update to the appropriate version of Windows 10. That excludes Enterprise editions, which are not eligible for the free upgrade.
One important thing to note is that you must have Windows 7 or 8.1 installed to be eligible for the free upgrade. Simply owning a genuine product key does not make you eligible!
Click the image below to see all the upgrade options.

---
How do I upgrade?
Microsoft has made it possible to seamlessly upgrade to Windows 10 via Windows Update.
When Windows 10 is released, upgrading your PC will be as simple as installing a new security update. If you've already reserved your copy, the Windows 10 files should already automatically downloaded to your PC. On launch day, all that will be left is to follow the instructions for installation.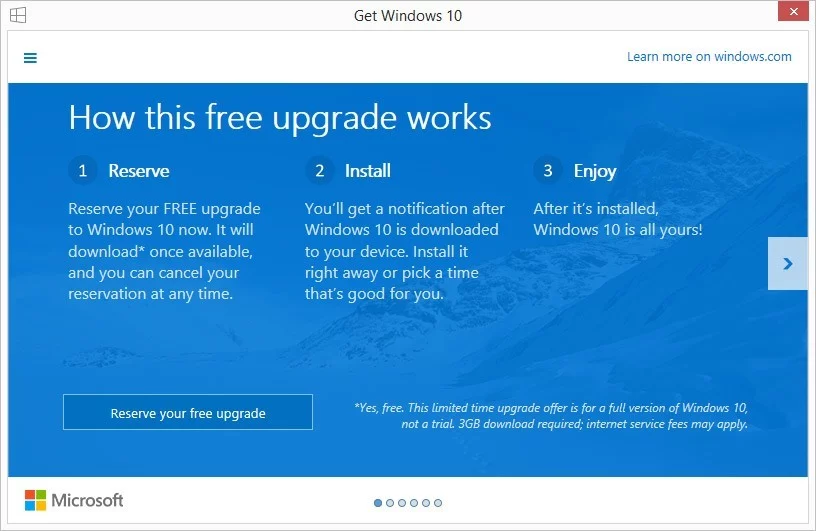 ---
How do I stop Windows nagging me to upgrade?
If you're sure that you don't want to upgrade to Windows 10 right now, that's absolutely fine. If you aren't sure but you definitely want those annoying popups to go away, take these steps:
Disable update notifications
Open the control panel
Perform a search for "notification area icons" and click on the first result
Find the Get Windows 10 (GWX) app and select "hide icon and notifications" from the drop-down menu
Uninstall the update
Open Windows Update
Click "Installed Updates" at the bottom left
Search for "KB3035583," select it, and click uninstall
---
Will my files and applications survive the upgrade?
Your files should be absolutely fine during the upgrade process, but your best bet is to back them up.
Applications are another issue. In the Windows 10 upgrade window, there's an option in the menu to check compatibility. When you perform this check, Windows will tell you which applications you'll have to reinstall manually when the upgrade is performed.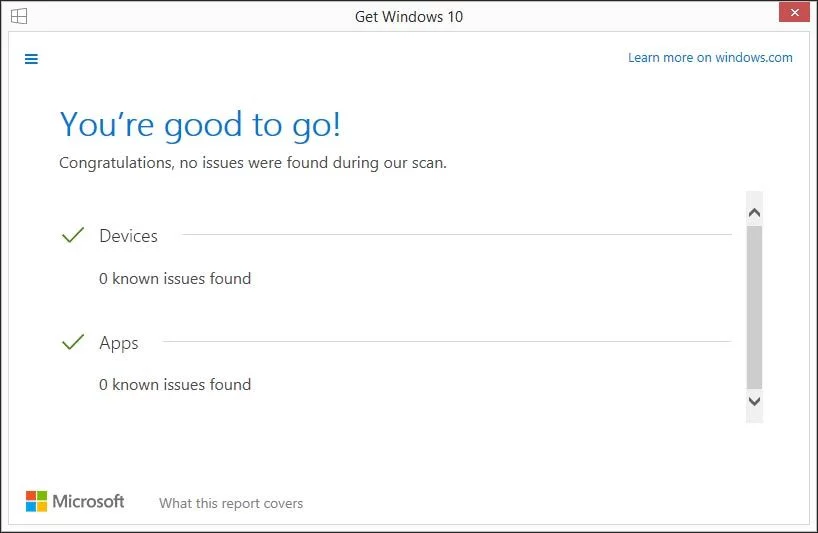 Of course, the check may not find all issues with all of your applications, so make sure you're able to reinstall anything you need manually.
---
Is Windows 10 standalone?
Windows 10 is standalone, but the free upgrade requires an existing install of Windows 7 or Windows 8.1.
Microsoft has stated clearly that once you have upgraded your older copy of Windows you will be able to perform a fresh install of Windows 10, if you so desire. A downloadable ISO file for installation via DVD or USB boot drive will be made available.
---
What do I stand to lose from upgrading?
As seen on Microsoft's official Windows 10 specifications page, there will be some "feature deprecation" when you upgrade.
Most of these things will be replaced by other features, can be replaced by other software, or won't effect you too much anyway.
Click the image below to see the full list.

---
What do I stand to gain from upgrading?
Well, this really depends on what you want from your PC. Windows 10 is already being touted as the version that "fixes" what Microsoft "broke" in Windows 8. Among the fixes is the reintroduction (and redesign) of the start menu, which many people missed dearly in Windows 8.
Windows 10 so far seems like a comfortable middle ground between the wildly successful Windows 7 and the not-so-loved but still innovative Windows 8. Windows 10 provides even more features and functionality and gives the users what they want.
If you want to learn more about some of the features of the new operating system, visit Microsoft's official Windows 10 page.
---
When will the upgrades stop?
Something else to consider if you're not sure of upgrading is Microsoft's new approach toward Windows versions in the future, stating that Windows 10 will be the "last version" of Windows.
We're not sure exactly what that means yet, but they seem to be signalling toward more consistent, perhaps smaller updates and a much longer lifespan for this Windows product, as mentioned in quotes from Microsoft reps:
"Windows will be delivered as a service bringing new innovations and updates in an ongoing manner, with continuous value for our consumer and business customers."

"We aren't speaking to future branding at this time, but customers can be confident Windows 10 will remain up-to-date and power a variety of devices from PCs to phones to Surface Hub to HoloLens and Xbox. We look forward to a long future of Windows innovations."
This could be a selling point for some people, as it seems that service and support for Windows 10 will be lasting a very long time.