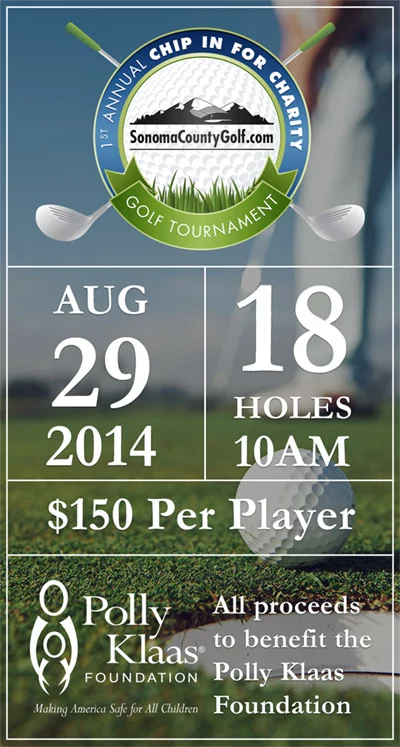 West County is proud to be a sponsor of Sonoma County Golf's 1st Annual Chip In for Charity Tournament.
Proceeds from the event are benefiting the Polly Klaas Foundation, a charity organization based in Petaluma whose mission is to keep children safe and aid in the recovery of missing children. Since 1993, the foundation has helped over 9,000 families across the nation, working with law enforcement to do everything possible to get their children back.
West County is beyond proud to work toward the benefit of such an amazing foundation.
The tournament will be held on August 29th at the Rooster Run Golf Club in Petaluma. Registration begins at 9am with an 18 Hole Shotgun Start at 10am. Lunch is provided for the entrants, with a cocktail reception to follow the tournament. There will also be raffles and giveaways with awesome prizes.
To help benefit the cause, you can enter the tournament too! The entrance fee is $150 and sponsorship opportunities are also available. Email info@sonomacountygolf.com for more details.
The event commemorates the launch of sonomacountygolf.com, an online resource for golfers who want to experience everything that Sonoma County's courses have to offer. Golfers can learn about the courses, book tee times, and read all the latest news in the world of golf.
To learn more about the tournament and register, visit https://www.sonomacountygolf.com/tournament.
To learn more about the Polly Klaas Foundation, visit their website.
Get a sneak peak and learn more about the course at Rooster Run Golf Club's website.