What are the Best Days and Times for Social Media Posting?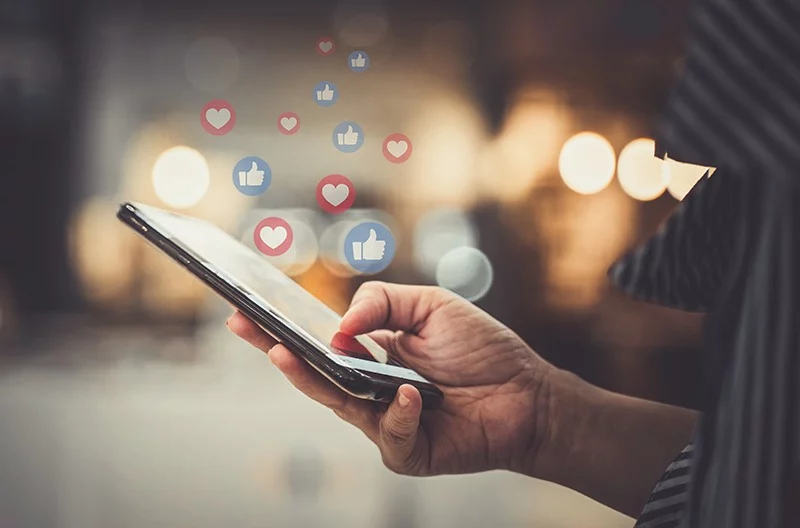 Social media: it is something businesses everywhere can't ignore any longer. Did you know — it has been reported that 75% of consumers bought a product because they saw it on a social network? If you are one of the many businesses that has created your profiles, but don't know what, when, or how to post to them, now is the time to learn!
Facebook, Instagram, and Twitter all aim to help you increase engagement with the online community. Even LinkedIn can be beneficial to certain markets. The more visible your posts are to your audience, the more likely it is they will do business with you. But things are always changing, and crafting a social media strategy around this can be confusing. Let's start with a basic guideline: what days & times are best for posting in 2019?
Make Sure to Schedule Midweek Posts
It has been determined that midweek is the best time post to your social channels, especially on Wednesdays. This is because more people are likely to be on their computers and near their phones. Mornings before work, lunch breaks, nights relaxing at home…these are the times people are catching up with news, friends & family, and shopping on social media.
Over the weekend, people are more likely to be enjoying their free time away from their devices. Take this time to create and schedule the following week's posts!
Timing Matters for Social Users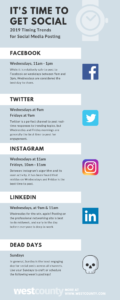 Not only do the days you post matter, but the time of day is also important. Think about your audience and their habits & schedules. Most people get their day started by checking their social accounts…some do it before they even get out of bed! But, in general, it has been found that 9am to 11am are the best times to post across most channels.
Take a look at our infographic for a closer look at the specific times to post on each network.
Increase Engagement with Quality Content
Another important thing to remember when shaping your social media strategy is to create valuable, engaging content. Without it, your Wednesday morning posts won't survive long on your followers' feeds. Timing is important, but quality is key. Ensure that all of your efforts work together to convert your audience into customers.
Need Help with Your Social Media Marketing? Partner with an Agency
Developing a social media strategy can be overwhelming. Setting up your channels, posting quality content, and analyzing your results — in some cases — can be a full time job. Many businesses find they don't have the time or resources to dedicate to social marketing. This is where an agency could really make a difference for you. Agencies like West County Net understand how to implement, measure, and deliver results with social media marketing.
Here at West County Net, we are dedicated to seeing our clients succeed in their digital marketing efforts, including social media strategy. If you need help defining your goals, creating content, and setting a schedule, don't hesitate to reach out to our team today.
Request a Consultation
Complete the form below to request a consultation.
"*" indicates required fields